OB/GYN Services
Obstetric and Gynecological Care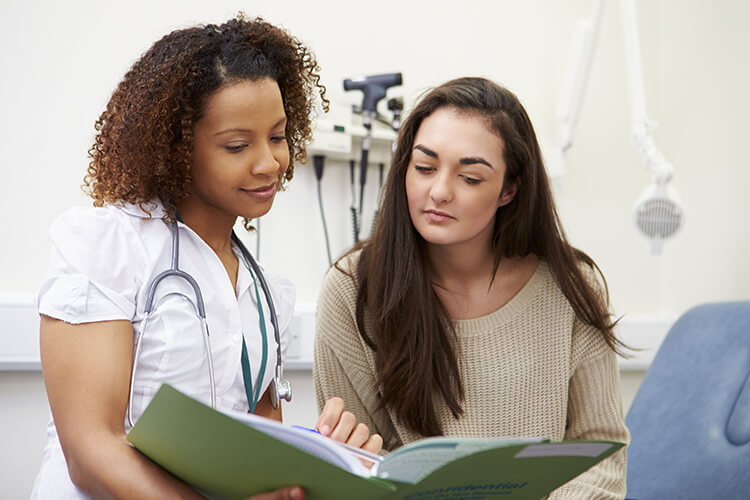 We know every woman is different, and so are your unique health needs. ETSU Health obstetricians, gynecologists, and OB/GYN specialists provide comprehensive care for all stages of your life, from contraception and family planning through pregnancy, childbirth, menopause, and beyond. We take a personalized approach to your reproductive health.
Services
Treatments

Abnormal bleeding
Breast exams
Cancer prevention
Contraception
Ectopic pregnancy
Endometrial Ablations
Endometriosis
Fecal Incontinence
Fertility
Fibroids/Fistulas
High-Risk Pregnancy
Hysterectomy
Immunizations
Infertility
Menopause
Miscarriage
Ovarian cysts
Pap Smears
Pelvic Floor Disorders
Polycystic Ovarian Syndrome
Pregnancy care
Prenatal Buprenorphine
Prenatal Care
STDs
Urinary incontinence
Urinary tract infections
Urogynecology
Uterine prolapse
Vulvodynia

Gynecological Care

ETSU Health OB/GYN specialists provide routine gynecological care, including annual well visits, and treatment as needed for conditions that cause pelvic or vaginal pain, abnormal uterine bleeding, and other conditions that can affect your reproductive health.

Obstetrical Care

Our OB/GYN specialists provide care to women in all stages of childbearing: hoping to become pregnant, pregnant, and in the postpartum period. Our highly skilled experts are trained to provide the safest, most advanced obstetrical care whether your pregnancy is routine or you are at high risk for complications.

Maternal Fetal Medicine

Our ETSU Health OB/GYN clinic offers specialized care when you need it most. If you have two or more medical conditions that could impact your pregnancy, or if your provider has concerns about your child's prenatal development, our Maternal Fetal Medicine Clinic is here to help.

Management for high-risk pregnancies with maternal/fetal complications and fetal anomalies
Prenatal diagnosis, including:

first trimester ultrasound and nuchal translucency assessment, an optional ultrasound that improves the accuracy of determining your child's risk for congenital conditions
level 2 anatomy examinations, where we gain detailed measurements and screen for genetic disorders
genetic amniocentesis, a sampling of your amniotic fluid to DNA test for certain conditions

Monitoring fetal well-being through biophysical profiles and non-stress tests
Ultrasound scheduling available from 7:30 a.m. – 4 p.m., Monday-Friday

Fertility Care

If you are having trouble conceiving, your obstetrician may refer you to our fertility specialist. Our fertility specialists can recommend a range of treatment options to help you reach your goals. Learn more about our

Fertility Services

.

Lactation Consultations

Expecting parents who are patients of ETSU Health OB/GYN are automatically scheduled for consults at our

Regional Lactation Referral Center

. Patients receiving care with another OB group are welcome to schedule an appointment for prenatal consultation.

Our registered lactation consultant will review your medical history, explore your infant feeding options, and develop a plan for the early days and weeks after delivery that is tailored to you and your needs.
Locations
---
325 N. State of Franklin, First Floor, Johnson City, TN, 37745
---
1505 West Elk Avenue, Elizabethton, TN, 37643
---
1319 Sunset Drive, Suite 103, Johnson City, TN, 37604
Providers

Click here to see a list of our providers.
Why ETSU Health?

A Dedicated Team of Specialists
In addition to obstetricians-gynecologists, our women's health specialists include gynecologic surgeons, urogynecologists, reproductive endocrinologists, nurses, genetic counselors, and nutritionists.
Our goal and our mission
Our goal is to improve the well-being and physical health of all women of Northeast Tennessee and the surrounding Southern Appalachia area. Key to achieving our goal is our stated mission of educating the next generation of physicians and healthcare providers - medical students and residents.
To accomplish our mission, the Department of Obstetrics and Gynecology with its Residency Program is dedicated to:

Training future OB/GYN physicians in the art of administering empathetic and efficient medical care to all women in the region regardless of age.

Providing both primary as well as advanced fellowship trained subspecialty Obstetric and Gynecologic care to all women in all segments of our region.

Utilizing our abilities to conduct research and scholarly activity that enhances our evidence-based knowledge to bring superior primary care to all of our patients.
Manage Your Health with MyETSUHealth

View test results, make appointments, request prescription refills, and message your doctor from any Web-enabled device by using our secure online portal, MyETSUHealth. Our technology also allows anyone on your care team to securely access your health information, making sure you always get care that's right for you and based on the latest evidence.