ETSU Health
A Tradition in Caring for Our Community
Just a few generations ago, the people of the Appalachian Highlands often struggled to access quality health care. Specialty care required hours of travel to centers where academic medicine drew experts in a variety of fields. East Tennessee State University recognized the need and committed to providing accessible, affordable health care for our community.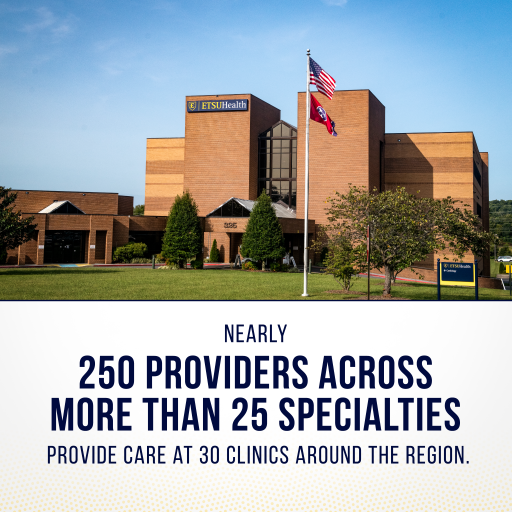 Today, ETSU Health proudly serves the people of Northeast Tennessee, Southwest Virginia and Western North Carolina. We offer expert primary and specialty care.
Our providers not only directly serve the community inside our health clinics, hospitals, and schools — they are the experts who teach the next generation of providers at ETSU's five health science colleges. Our approach to health care, driven by our roots in academic medicine, brings up-to-date knowledge, expertise and leading-edge care to our region.


It's a tradition of care that centers around our community. As your neighbors, we are committed to this region and to your care.
Mission and Vision
Our mission is to serve in underserved areas with quality, affordable care while training the next generation of health care providers with expertise and compassion – so that they may carry out our mission for the next generations.
Our vision is to meet all the health care needs of our community with the expertise, compassion and quality care that make ETSU Health your provider of choice.
Thank you for letting us serve you, care for your family and help our region thrive. It's a tradition in caring for our community that we hope to continue for many generations ahead. Thank you for choosing ETSU Health.
Our Values
Compassion

At ETSU Health, we believe that people are our purpose. Our providers teach their students and residents to look not just at the symptoms, but to the whole person. We believe that every member of our community deserves compassion, respect and quality care along every step of life's journey.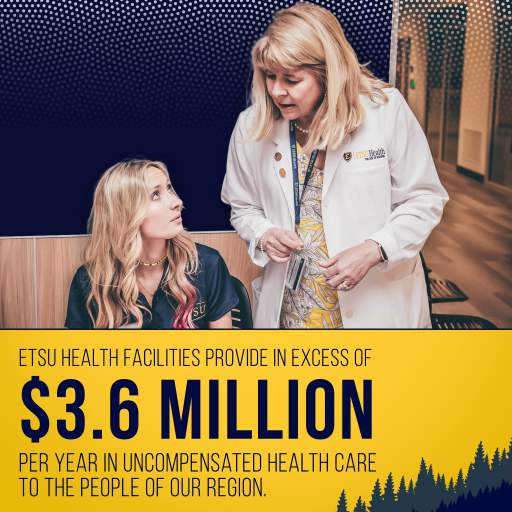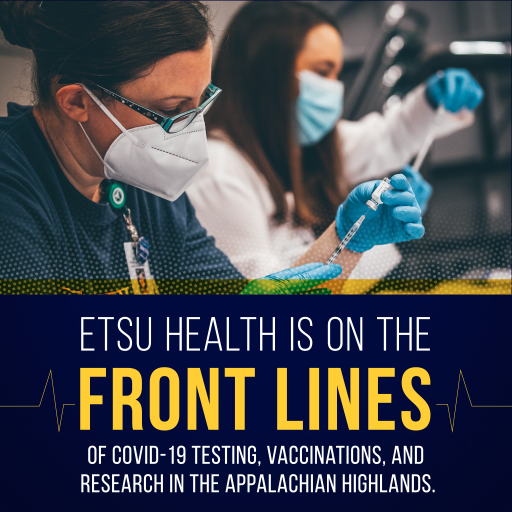 Knowledge

We believe that our patients deserve knowledge about their condition, what drives their symptoms, and how they can live their healthiest possible life. We are passionate about our role in academic medicine. We believe that as the teachers of the next generation of health care providers, we are responsible for maintaining up-to-date knowledge in our fields of expertise. And as learners, we are always striving to gain more knowledge about the needs of our community, our patients and our neighbors so that we may better serve you.
Accessibility

Every member of our community deserves to access quality primary and specialty care. That is the founding principle for ETSU Health and our five health science colleges. However, serving the underserved means more than just bringing quality care to our region. It means making it affordable, approachable and available to everyone at every stage of life.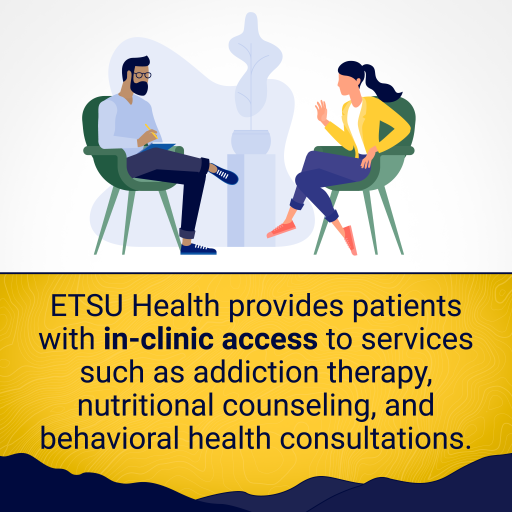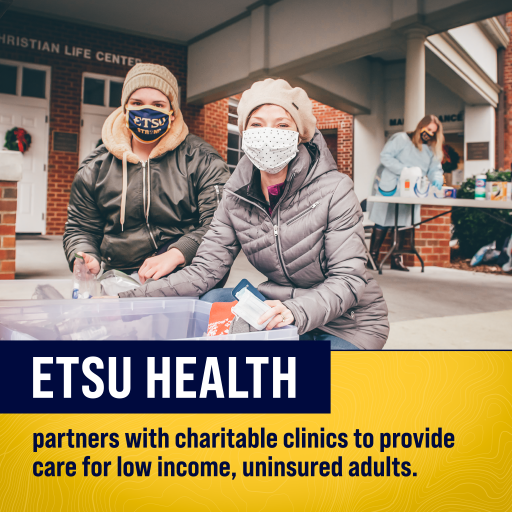 Community

Our patients — our neighbors — are the driving force behind our mission and our vision. Serving the Appalachian Highlands, bringing quality health care to our community, is at the very heart of what we do. It is why we have clinics across the region, why we have providers embedded in multiple hospitals, why we serve inside our schools, why we host community programs, and why we sponsor community festivals and health clinics.
Advancement

Fulfilling our vision for ETSU Health means that we are always advancing. We continue to bring more specialties to our region. We offer cutting-edge techniques to our care. We conduct research to discover new improvements in how we can deliver your care. We continue learning and growing so that we may better serve our community.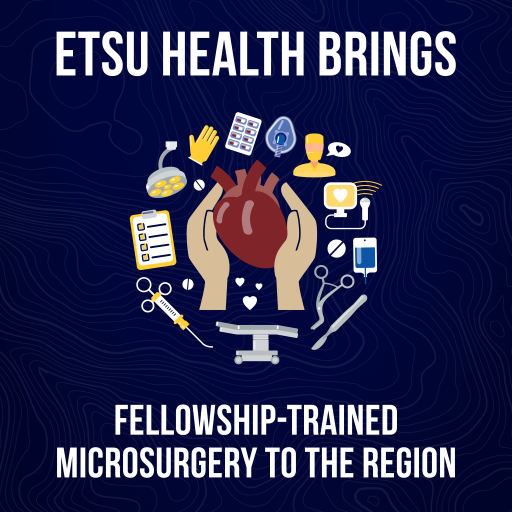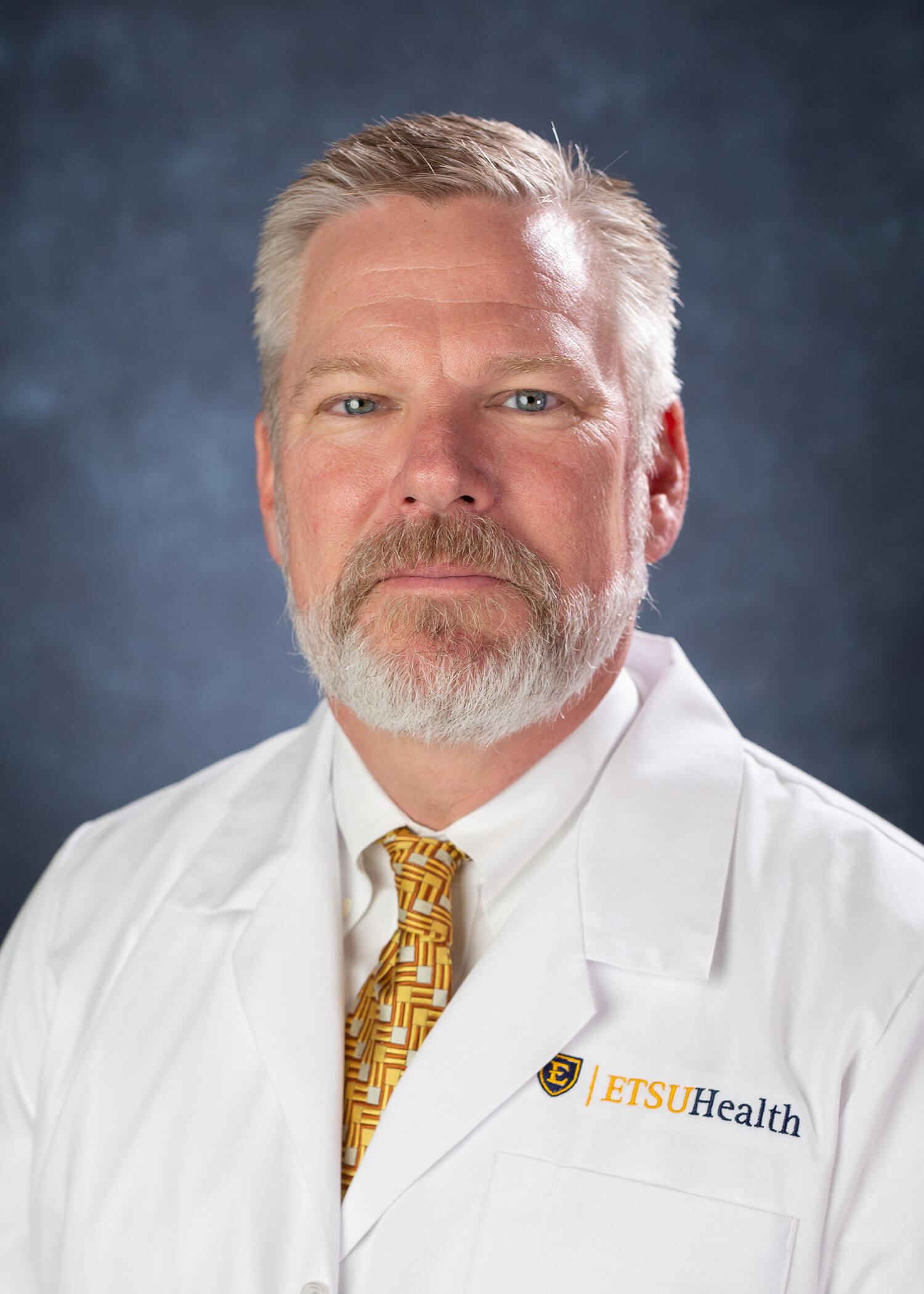 Thank you for visiting ETSU Health. It is truly our privilege to serve the patients of the Appalachian Highlands and improve the lives of our region. As a leader in health care education, we take our mission of clinical care as a calling to give back. Our dedicated providers and staff appreciate the trust you place in us and pledge to be your "providers of choice."
— William A. Block Jr., M.D.
ETSU Vice President for Clinical Affairs
& Dean of Quillen College of Medicine