Child Gastroenterology Services
Diagnosis and Treatment of Diseases Affecting the Alimentary Tract, Pancreas and Liver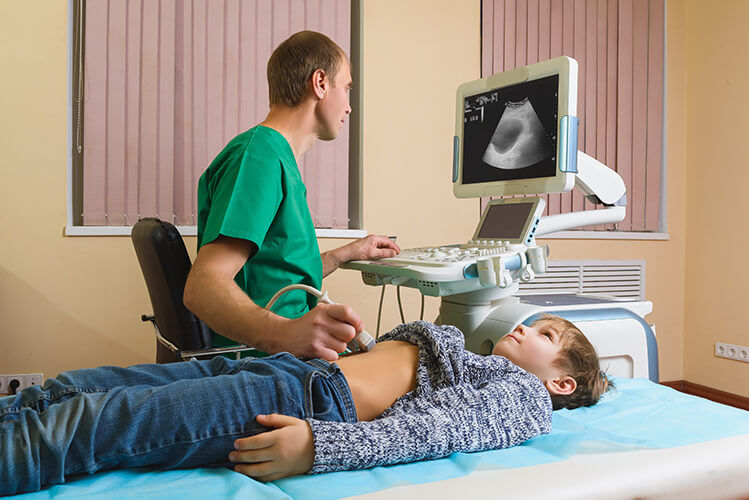 Gastroenterology specializes in the diagnosis and treatment of diseases affecting the alimentary tract, pancreas and liver. Our physicians provide a patient-centered, holistic care plan that focuses on diseases prevention and treatment goals for patients with inflammatory bowel disease, chronic hepatitis, irritable bowel syndrome and swallowing disorders.
We hold special expertise in endoscopic procedures. This includes all aspects of therapeutic endoscopy including cholangioscopy, argon plasma coagulation for control of gastrointestinal bleeding, and stenting for benign and malignant biliary and alimentary tract disease. Our physicians' research interests include swallowing disorders, severe liver disease, gastrointestinal bleeding, atypical chest pain, and Hepatitis C.
Treatments

Capsule Endoscopy
Colitis

Colonoscopy
Constipation
Diarrhea
Endoscopic Retrograde Cholangiopancreatography
Endoscopic Ultrasound (EUS)
Esophageal Dilation
Esophageal Stricture
FibroScan
Flexible Sigmoidoscopy
Gallbladder Disease
Gastritis
Hematemesis
Hemorrhoid Banding
Liver Disease
Nausea
Pancreatitis
Peptic Ulcer Disease
Rectal Bleeding

Upper Endoscopy


Locations
---
Suite 31B
408 North State of Franklin, Johnson City, TN, 37604
Providers
Why ETSU Health?

Comprehensive Care and Support
The unique training that gastroenterologists complete provides them with the ability to provide high quality, comprehensive care for patients with a wide variety of gastrointestinal ailments. Gastroenterologists perform the bulk of research involving gastrointestinal endoscopic procedures as well as the interpretation of results and are considered experts in the field.
Studies have shown that gastroenterologists perform higher quality colonoscopy examinations and comprehensive consultative services when compared to other physicians. This translates into more accurate detection of polyps and cancer by colonoscopy when performed by gastroenterologists, fewer complications from procedures and fewer days in the hospital for many gastrointestinal conditions managed by trained gastroenterology specialists.
It is this ability to provide more complete, accurate, and thorough care for patients with gastrointestinal conditions, which distinguishes gastroenterologists from other physicians that provide some similar services.
Manage Your Health with MyETSUHealth

View test results, make appointments, request prescription refills, and message your doctor from any Web-enabled device by using our secure online portal, MyETSUHealth. Our technology also allows anyone on your care team to securely access your health information, making sure you always get care that's right for you and based on the latest evidence.