Physical Therapy Services
Improve Movement, Manage Pain, Restore Function, and Prevent Disability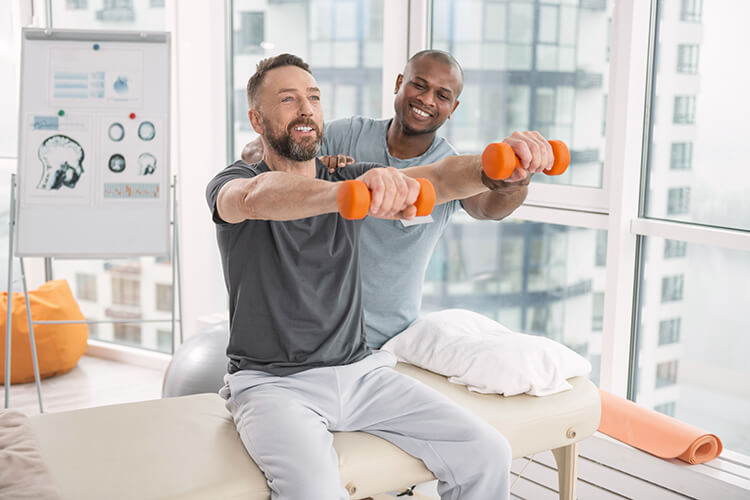 Physical therapists are movement experts who improve quality of life through prescribed exercise, hands-on care, and patient education. Physical therapists diagnose and treat individuals of all ages, from newborns to older adults.


Many patients have injuries, disabilities, or other health conditions that need treatment. But PTs also care for people who simply want to become healthier and to prevent future problems.


Physical therapists examine each person and then develop a treatment plan to improve their ability to move, reduce or manage pain, restore function, and prevent disability.

Benefits of Physical Therapy

Physical therapy services include evaluation and treatments provided by licensed physical therapists.
Physical therapy helps people:

Improve and restore movement and function
Manage pain

Reduce the symptoms of many chronic (long-term) conditions and diseases
Recover from and prevent injury
Improve Your Quality of Life





Providers


Specialty Areas of Practice
Orthopaedic Injuries
Chronic Pain
Sports Medicine
Concussion
Pelvic Health
Dizziness (Vestibular Disorders)
Headaches
Jaw Pain (Tempomandibular Disorders)


Locations
---
1043 Jack Vest Drive, Johnson City, TN, 37614
---
102 East Ravine Road, Kingsport , TN, 37660
Why ETSU Health
Specialty-trained PTs
Our Doctors of Physical Therapy all have specialized training outside the standard physical therapy education.
Training includes:
Board Certification Specialists in Physical Therapy Areas of Practice
Residency or Fellowship Training in Physical Therapy

Certifications or Advanced Training in Pain
One-on-One Care
Patients will receive one-on-one care each visit.
It is our belief that each patient needs individualized care. Our providers will spend time getting to understand you and your condition and create a plan that works best for you.
Collaborative Care
Our providers will directly work with other health care providers to ensure you receive high quality, evidence-based care in a timely manner.

Manage Your Health with MyETSUHealth
View test results, make appointments, request prescription refills, and message your doctor from any Web-enabled device by using our secure online portal, MyETSUHealth. Our technology also allows anyone on your care team to securely access your health information, making sure you always get care that's right for you and based on the latest evidence.