Gary Shealy Memorial ALS Clinic
Multidisciplinary Care for People Diagnosed with ALS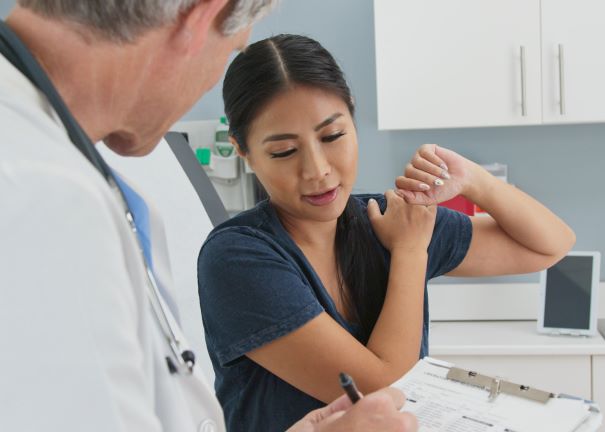 The Gary Shealy Memorial ALS Clinic is an interprofessional clinic that aims to address the complex needs of adults with Amyotrophic Lateral Sclerosis (ALS). This once-monthly clinic serves as a place where people with ALS can see a variety of medical and rehabilitation professionals. Recommendations and referrals are made regarding strategies to help patients maintain safety and independence as well as for necessary equipment and/or procedures.
The first of its kind in the region, the Gary Shealy Memorial ALS Clinic is open every third Friday of the month from noon to 4:30 p.m. All that is required to attend the clinic is a diagnosis of ALS.
Referrals may be faxed to (423) 439-4607 attention: ALS Clinic.
Services
The goal of the clinic is to offer a multidisciplinary approach to the care of people diagnosed with ALS. The following disciplines are represented to provide an all in one clinical experience:
neurology
respiratory therapy
physical therapy
occupational therapy
speech-language pathology
dietary
pharmacy
social work
assistive technology
ALS Association liason
Locations
---
2nd Floor
325 N. State of Franklin Road, Johnson City, TN, 37604
Resources
Living with ALS Resource Guides
Providers
Randall G. Trudell, MD
Phillip Justice, MD, Medical Director
Kristen L. McHenry Ed.D, MS, RRT-ACCS
Amy E. Hopkins, OTR/L
Michelle Lee, Ph.D., RDN, LDN
Kathryn A. Mueller, PharmD
Charlotte Sorensen, MSW
Allison Bourassa, PT, DPT, NCS, ATC
Rocky Conner, assistant technology professional
Michael Buford, Ph.D., MSSW



Why ETSU Health?
We offer a wide range of high quality services. As the region's leading academic medical practice, we work with the local hospital systems to provide you with the best possible care. Our providers work with you to ensure you live a healthy life. In addition to preventive care and health maintenance for both women and men, our internal medicine providers diagnose and treat medical conditions that impact the lives of adults. They also help you manage chronic conditions, including arthritis, asthma, diabetes, heart disease and other long-term health problems.
Manage Your Health with MyETSUHealth
View test results, make appointments, request prescription refills, and message your doctor from any Web-enabled device by using our secure online portal, MyETSUHealth. Our technology also allows anyone on your care team to securely access your health information, making sure you always get care that's right for you and based on the latest evidence.