Cardiology Services
Diagnosis and Treatment of Diseases and Abnormalities of the Heart and Blood Vessels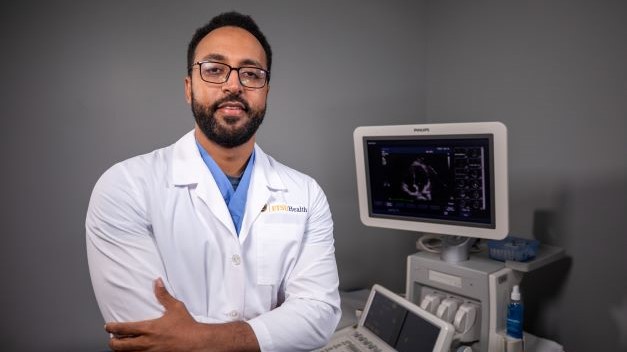 Our cardiologists, heart specialists and heart surgeons have advanced training in heart disease, conduct research, and use a team approach to manage and treat your heart condition. Their collective experience in treating thousands of people with heart disease ensures you receive the best care — close to where you live.
Services
Treatments

• Adult Congenital Heart Disease
• Aortic Aneurysm and Aortic Disease
• Aortic Valve Disease Atrial Fibrillation and Other Arrhythmias
• Cardiac Catheterization
• Cardiac Prevention and Rehabilitation
• Cardiomyopathy
• Carotid Artery Disease
• Catheter Ablation
• Congestive Heart Failure
• Coronary Artery Disease
• Genetic Heart Disease
• Heart Attack
• Heart Bypass Surgery
• Heart Transplant
• Hypertension
• Mitral Valve Disease
• Pediatric Cardiology and Heart Surgery
• Peripheral Artery Disease (PAD)
• Pulmonary Hypertension
• Sports Cardiology
• Transcatheter Aortic Valve Replacement (TAVR)
• Ventricular Assist Devices
• Women's Heart Disease

Testing

• Stress Testing
• Echocardiography
• Heart rhythm monitoring
• Pacemaker checks
• Non-invasive testing for peripheral vascular disease
• Invasive Cardiac Procedures
• Cardiac catheterizations
• Coronary intervention
• Electrophysiology studies
• Ablations
• Pacemaker and defibrillator placements
Locations
---
329 N. State Of Franklin Road, Johnson City, TN, 37604
---
1505 West Elk Ave., Elizabethton, TN, 37643
---
1901 S. Shady Street , Mountain City, TN, 37683
Providers

Click here to see a list of our Cardiology providers.
Why ETSU Health?
ETSU Health gives you access to the latest technology and treatments. Our ongoing collaboration to set nationally accepted treatment guidelines ensures you benefit from heart care that is backed by research.
Manage Your Health with MyETSUHealth

View test results, make appointments, request prescription refills, and message your doctor from any Web-enabled device by using our secure online portal, MyETSUHealth. Our technology also allows anyone on your care team to securely access your health information, making sure you always get care that's right for you and based on the latest evidence.