Brad A. Feltis, M.D.
Pediatric Surgery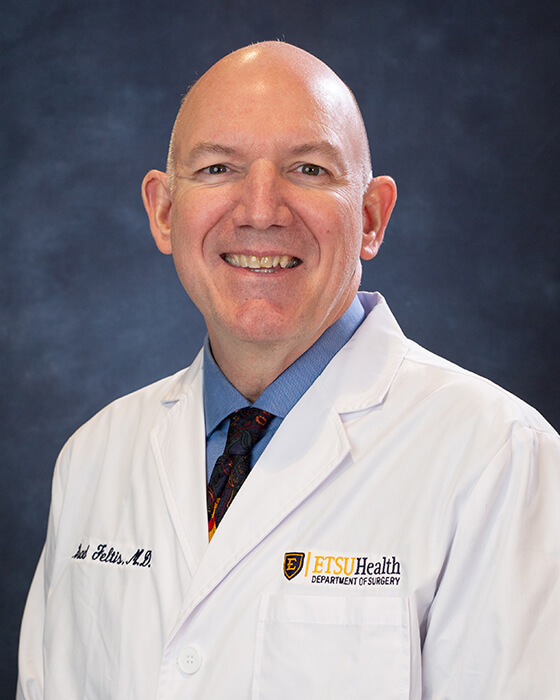 Specialty:

Pediatric Surgery
Fetal Surgery
Minimally Invasive
Pediatric Surgery
Surgical Infectious Diseases
Pediatric Trauma

Call for an Appointment:

423-439-7201

Location(s):
Brad Feltis, MD, PhD, most recently served as a pediatric surgeon and partner with Pediatric Surgical Associates in Minneapolis, as well as the Carol Ann Wells Chair in Fetal Surgery, and the director of the Midwest Fetal Care Center, Children's Minnesota and Allina Health. Prior to this role, he served as a pediatric surgeon with a private medical group. He earned his undergraduate degree from the University of Minnesota and his MD from the University of Minnesota, School of Medicine. He went on to receive his PhD in Surgical Sciences from the University of Minnesota, Department of Surgery. Dr. Feltis has held a number of fellowship appointments, including fetal surgery, operative fetoscopy and pediatric surgery.


"I'm eager to expand our current capabilities to achieve an advanced newborn surgical care system so people in the Appalachian Highlands won't need to leave home to receive those services," Feltis said. "The team at Niswonger Children's Hospital has a compelling vision of creating a comprehensive advanced pediatric surgical program, and I'm thrilled to be a part of it. I am also heartened by the vision of Ballad Health to create a healthy community through the Accountable Care Community and their united efforts to ensure children are healthier and have the opportunity to thrive."
Dr. Feltis will serve as Division Director of the ETSU Quillen College of Medicine's Division of Pediatric Surgery.
EDUCATION AND TRAINING:
Medical School: University of Minnesota School of Medicine
PhD, Surgical Services: University of Minnesota, Department of Surgery

Internship: Department of Surgery, University of Minnesota Hospital and Clinics
Residency in General Surgery: Department of Surgery, University of Minnesota Hospital and Clinics
Fellowship in Surgical Infectious Diseases: Department of Surgery, University of Minnesota Hospital and Clinics
Fellowship in Pediatric Surgery: Department of Pediatric Surgery, Children's Hospital and Regional Medical Center, University of Washington
BOARD CERTIFICATIONS:
Surgery


Pediatric Surgery
HOSPITAL AFFILIATIONS:
Johnson City Medical Center, Johnson City, TN
Veterans Affairs Medical Center, Mountain Home, TN
Laughlin Memorial Hospital, Greeneville, TN
Franklin Woods Community Hospital, Johnson City, TN
Holston Valley Medical Center, Kingsport, TN